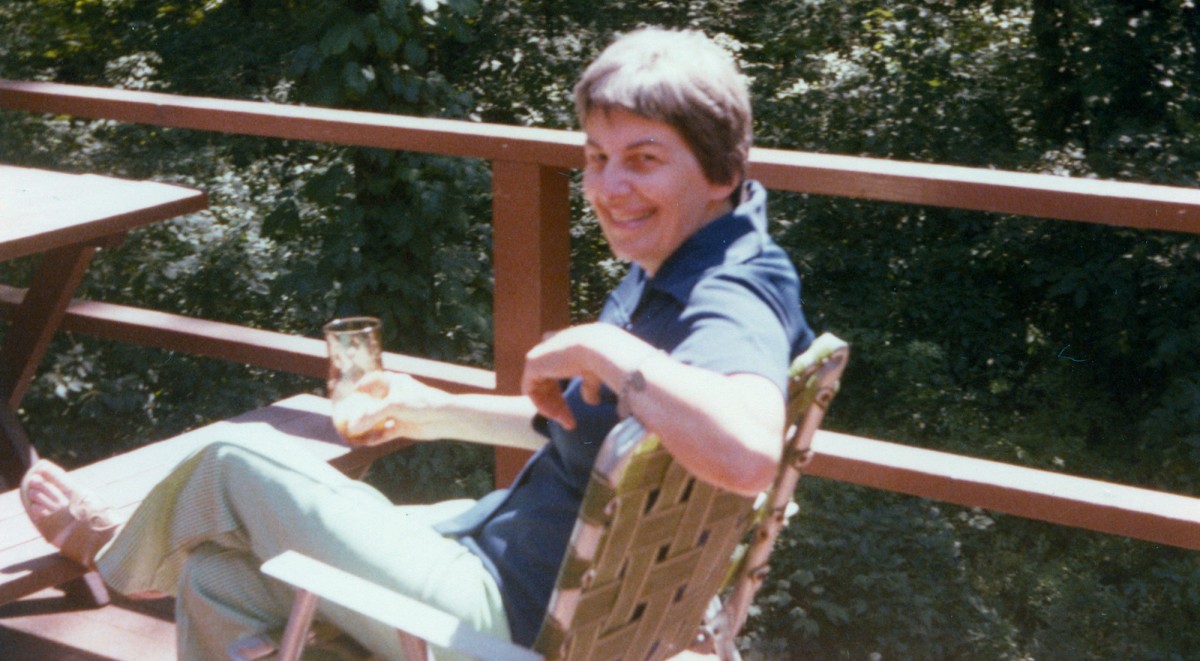 Mom passed away in March 2005, in what seemed to me at the time to be a concatenation of events – three protracted deaths in one week: Mom, John Paul II, and Terri Schiavo. Perhaps it was a stimulus to reflection, perhaps providential.
Mom's end, like Terri Schiavo, was in a humane place, a hospice. But while Terri died tangled in the toils of modernity — medical technology, and the machinery of litigation and legislation – Mom had come to her hospice to shed that very modernity.
The Pope, despite being the steward of an ancient faith, was someone who had done more than anyone in our lifetimes to make vivid the task of defining respect for life in the context of modern science.
And so it was with Mom – in the end subject to that modern science – but a person who made our lives vivid with a love and respect for life, who had a certain grandeur to her being, a bracing desire to live and to enjoy herself and her surroundings.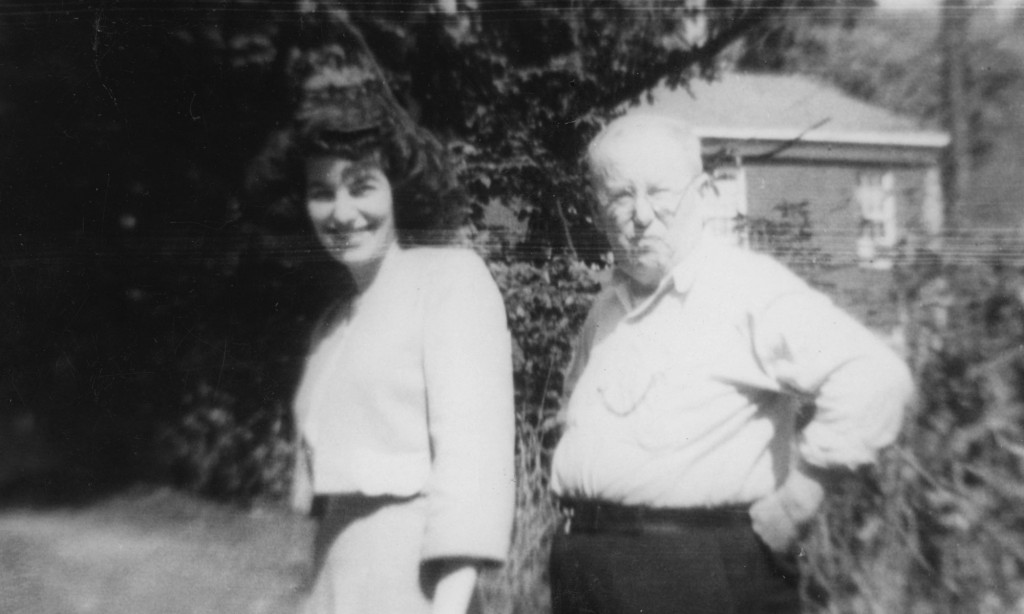 Starting out in a family of stern but compassionate parents (and one of 6 siblings) Mom grew up to be a beautiful woman, physically and emotionally. In fact, I parsed through boxes and boxes of photographs she kept and when I found these earlier shots of Mom I thought "wow, Mom was a babe!"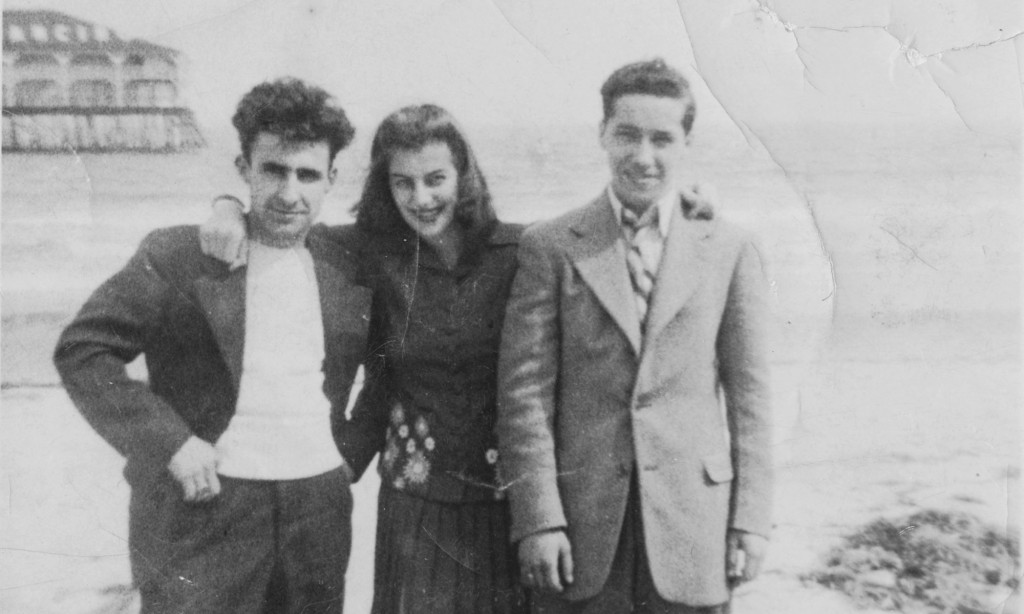 She was very popular, highly sought after. Something that had been confirmed by one of her sisters many years ago.
As children we knew her as a "no excuse" Mom: whatever we asked, whatever we desired she performed, denying us nothing, or at least coming pretty damn close to achieving it. She had "no excuses." Ah, we rue all those days when, as her children, we failed to measure up so many times to her greatness, when we offered "excuses" to many of her simple requests. But because she avoided being an "inconvenience" she made nothing of it.
It made no matter to her: she loved us. Her children came first. Her sacrifices were constant, and were monumental. But often times her sacrifices were small: she never took the last chocolate in the box, nor did she take the last strawberry in the bowl. That's just the way she was.
Every night she spent time with us, reviewing our homework and talking about what we had learned that day at school. Committed to our success, she worked with us to develop a vision and plan for our futures.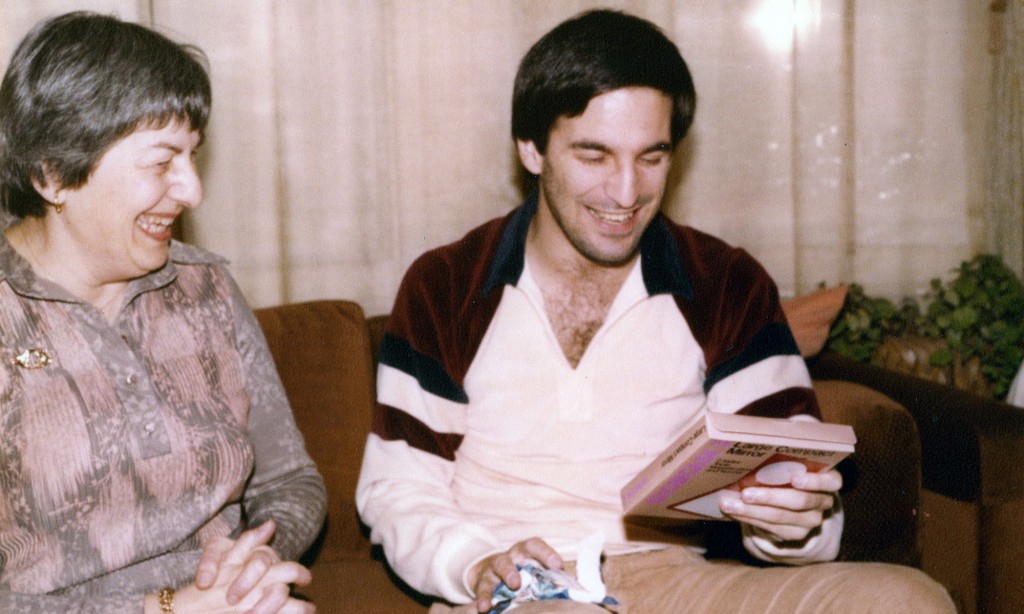 I earned my law degree and after years of struggle and sacrifice and some misspent youth, I eventually went on to start a successful company in Europe, and I continued my academic studies … even though I was by now a "well-seasoned adult" … in the areas of neuroscience and artificial intelligence.
Mom was a good wife, but it was her lot in life to marry a man who mentally abused, mentally tortured her, who had no room for anything but himself. But she tolerated it and had an enormous capacity for hard work and adversity. Because she lived and worked for her kids, sending us to great colleges and instilling a great love of travel and reading, a love that remains to this day. She managed 1 trip across the U.S. and 3 trips to Europe. I live in Europe today.
But it was reading that was her gift, the love of reading. She made me a lifelong reader, taught me the pleasure of a good book (always giving me a book on my birthday, or Christmas, or just anytime during the year) so it became one of my favorite things in the world.
And oh, the trips to the library. One Saturday each month she took us to the local public library, allowing us to arm ourselves with a month's worth of books. I wandered from bookcase to bookcase, and took down whatever book my fingers lighted upon. And I scanned it or read it, sometimes understanding maybe only a few words, but gravitated to the tale. We are all impressionable at that young age, eager to flesh out the wonders of the world, not realizing perhaps how reading expanded the richness of our vocabulary.
My mother showed me how reading can be a joy, a time of peace, an adventure, an exploration, or just the pleasure of enjoying a good story. If you learn to love reading, as I do and as many others do, it's not really a habit you have to develop — it's something you look forward to doing each day. I love to lose myself in the world of a novel, to become best friends with a character, or to curl up in the silence of the early morning or late night hours, wrapped in the deliciousness of a science book or art book or any thought book. She made that happen. I am always reminded of the famous quote by Jorge Luis Borges: "I have always imagined that Paradise will be a kind of library." And today my wife and I count over 5,000 books in our library, many reread numerous times.
And she wrote and illustrated children's books, and made up stories, but for a very small, defined audience: her two grandchildren. Stories about two small boys named Shaun and Justin ("Just like us, Yaya!") often lost in the woods, but helped by birds named Tippy and Flighty, and Mr Squirrel and Miss Rabbit. When we found these among her things we had quite the laugh.
And travel. She knew it makes you more social, more aware, more intuitive, better at conversation, more confident, more adaptable. Navigating unknown cities, learning how to adapt your plans to changing situations, becoming more adventurous.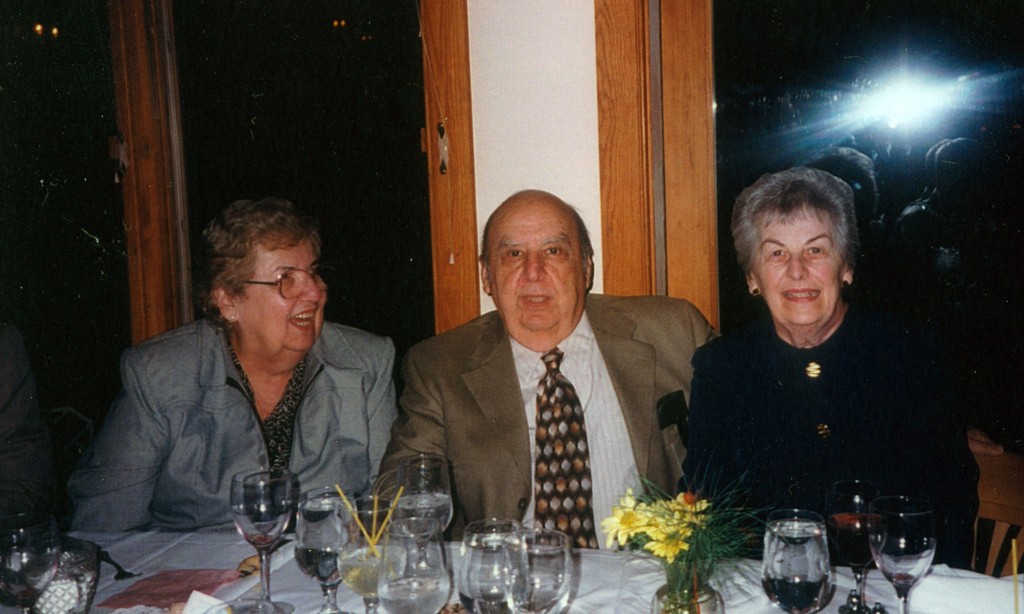 She loved her family and always stayed in touch with her sisters and brother, constantly visiting everyone. We have marvelous memories as children and young adults (with fabulous photographs) of Christmas holidays and family get-togethers with Aunt Bess and Uncle Tony in Brockton and Aunt Helen in Long Island and Aunt Christine in Philadelphia. That connection, that touch of hers was common to everyone who knew Mom: she simply wanted to be with her family.
She had an endless supply of common sense, and sound advice, all balanced by love. And she constantly traveled from her home in Connecticut to be with her grandchildren in New York: babysitting, enjoying, sharing, delighting.
And she loved the sea, she loved Cape Cod which is on the East Coast of Massachusetts, not far from where she grew up. Although every summer as a family we traipsed all over the U.S., it seemed we always had time for a 2 week summer holiday on the Cape. As a grandmother, she often accompanied my sister and family to their summer vacations on Rhode Island, basking in the glory of her grandchildren on the beach. The photos we have of those times are the best photos we have of her. It is probably what drove me to cherish my time in and around Milos, Greece.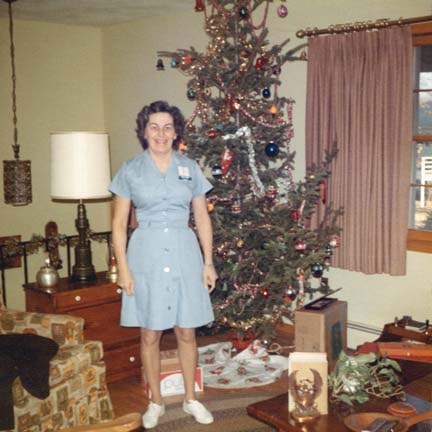 After she retired, she became a volunteer at our local hospital. She loved it. We took a photo of her in her new blue volunteer uniform and she was so proud. You can see it on her face. And she always wanted to be in the children's wards, or to tend to newborns.
She suffered from a decaying heart muscle that would debilitate her in her later years and was the catalyst to her eventual death. We did not realize how sick Mom was in her final years. Her life had become difficult. She had moved from New York to Rhode Island (traumatic for a woman her age) to be close to my sister and her grandchildren, and she had increasing health problems, she did not like where she had "arrived" at this stage of her life — and so it seemed she wanted to make all our lives difficult: complaining, criticizing, scolding. But it was a complex overlay of health and emotional issues.
She had a heart operation and there were complications due to extreme negligence by nurses in her post-operative treatment. I immersed myself in issues of cardiovascular disorders, hematology, rheumatology, etc. I wanted to understand the work of the doctors who treated her and what treating her meant to them, both humanly and scientifically. What chance was there really of translating a patient's hope (or family's hope) for survival into the reality of a recovery? I began to realize that how a doctor responds to an individual patient's perspective and a family's perspective — continue to fight for life when chances of survival are slim, or acquiesce and try to make the best of whatever time remains? — can be almost as grave a responsibility as the more scientific challenge of treating disease. It is as much art as science.
There are those who can reconcile themselves to death and those who can't. Increasingly I've come to think that it is one of the most important ways the world divides up. Anecdotally, after all those hours I spent in doctors' outer offices and in hospital lobbies, cafeterias and family rooms, my sense is that the loved ones of desperately ill people divide the same way.
I wanted her doctors to do everything possible, no matter how much of a long shot it was, to save or prolong her life. But her blood pressure and vital signs continued to drop into a steady, perilous zone and her pulse was weakening and the oxygen level in her blood was dropping. And so we reached a point that physicians refer to as "medically futile" and we began arrangements for a hospice.
But Mom may have reached that point well ahead of us. It was not that she rejected God but it was she had grown so tired that last year, those final months, that we would almost have to say that she probably hit that "mark" where she felt life had not the significance it once had, and we think she just accepted a need, a want to "give up the ghost" – but was assured that her family loved her. There is a novella by Leo Tolstoy called The Death of Ivan Ilyich wherein the protagonist, dying slowly, struggling slowly, making his family suffer slowly, realizes that his family really does love him. He then understands what he owes his family: a "good death." And that was what Mom gave us, slowly slipping away, dying quietly, yet blissfully — a good death for her and us. We had no guilt over what we did or failed to do to preserve her.
At the time I tried to offset the weight of that last paragraph, by softening it with the detail of my memories. I tried to somehow express them all at once, the ups and downs and infinite gradations of emotion in between.
But as her death approached, as she grew frailer from the punishments of a body gone wrong, we realized that when she was "in life" it was her incredible strength of spirit — of soul — that kept her going. She really was swimming in the sea of life. And so much of her strength was derived from her children and grandchildren, and for that we are so ever thankful.
And I was reminded of the brass plaque she had on a wall in her kitchen that said "There is no greater joy than to serve those you love". That plaque now hangs on a wall in my kitchen. God didn't just give us a Mother, God gave us His best.