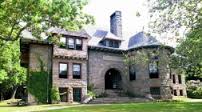 20 May 2014 – My mother spent the last years of her life in South Kingstown, Rhode Island, United States. She was a patron of the public library. Even though it is a tax-supported public library like most public libraries in the U.S. it has suffered extreme budget cuts. But it still provides free, convenient and equal access to print and non-print materials, services and technologies that support our community's informational, educational, cultural and recreational needs.
We have given funds to the library via two of their programs:
1. The Memorial and Tribute Book Program which allows you to celebrate a birthday or anniversary, note a graduation, commemorate a promotion or retirement, or to remember a loved one by making a specific gift and memorialized by a bookplate placed in a new book.
2. The Monetary Donations program which allows contributions (cash or checks payable to "South Kingstown Public Library") to be applied as the Library Trustees see fit.